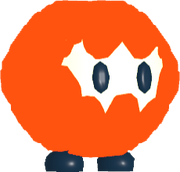 Pets are creatures that can be hatched from Eggs. They are the core of the game Pet Swarm Simulator.
Behavior
Equipped pets follow you around. They cannot collide. The farther you are from them, the faster they will go to catch up to you. This may be a problem when traversing through portals, as pets cannot go through portals to catch up to you.
You can command your pets to harvest food, and defeat enemies to gain eggs. Once you collect enough food, the eggs hatch into more pets.
Power
Once the player enters the game, they have an equipped Dog with them. The tutorial prompts the player to first kill an Evil Shroom, collect and plant the Noob Egg, then gather Red Berries to hatch the egg. Once the tutorial is completed, the player can no longer obtain a Noob Egg, and instead they get the Forest Egg 1 if they defeat an Evil Shroom and other eggs by defeating more progressively harder monsters.
Types
There are eight types of pets; Common, Uncommon, Rare, Mythic, Legendary, ??? (Aka Secret), GOLDEN, and Boss. The first six types of pets can be obtained by eggs dropped by monsters. GOLDEN are only obtained by purchasing them in the different Worlds using Robux. Boss pets are only obtained by killing Bosses with a 1/10k (0.01%) chance.